Update (Jan. 2023): All previous boarder requirements are clear. The boarders are officially open and no additional actions are needed besides standard travel requirements (VISA/Permits). There are two flights into American Samoa, a 3+ times a day connection through Samoa Airways, and a Bi-Weekly connection through Hawaiian Airlines.
Update (Oct. 2022): TALOFAPASS with 10 day prior approval is still the standard with a special GAR approval as an optional work around. Boarders are semi-open to those with an approved excuse. That was outlined in the governors DECLARATION. On page 3 is our Travel outlines and is partially quoted as below (please refer to the memo for details):
5. Travel and Entry Requirements
(a) Any person entering the Territory by air or sea, except crew members,
(1) Must register with TALOFAPASS (https://talofapass.as.gov/) the online travel program of the American Samoa Government at least 10 days prior to entering the Territory;
(2) Must show proof of full vaccination? if they are 5 years old or older;
(3) Requests for vaccine accommodations for a medical condition or a sincerely held religious belief may be made by contacting the GAR at [email protected] or 684-633-4121. Requests for accommodation must be received at least 10 days before travel.
(4) Entry is limited to residents, family members of residents, and people traveling for business or other approved purposes.
(b) Any person entering the Territory must wear a mask, in accordance with Section 1 of this Declaration, while onboard an aircraft, boat or ship in transit to American Samoa.
(c) ANY PERSON WHO MAKES FALSE STATEMENTS OR PROVIDES FRAUDULENT DOCUMENTS TO TALOFAPASS OR REFUSES TO COMPLY WITH QUARANTINE AND TESTING REQUIREMENTS
ISSUED BY THE DEPARTMENT OF HEALTH SHALL BE SUBJECT TO CRIMINAL AND CIVIL PENALTIES INCLUDING BUT NOT LIMITED TO A $1,000 FINE.
(d) The GAR may make exceptions and authorize the entry of persons into the Territory without using the online travel program. Any person entering under an exception by the GAR must comply with the safety requirements mandated by the GAR. Any inquiries can be made at [email protected]

Sept. 23, 2022 DECLARATION https://www.americansamoa.gov/_files/ugd/4bfff9_b25c64297dae4388a4279f071ef8534e.pdf
Update (Sept. 2021): The official entry website is TALOFAPASS and is available to guide visitors through the process of travel to American Samoa. According to TALOFAPASS Vaccination is required with few exceptions, one of them being a doctors note and may require a different procedure for testing, quarantine, and clearance. Our vaccination rate has gone up (to 63%) but we are not at the 80% marker. This has taken flight frequency down to twice a month through to December. (Update added on Sept 13th, 2021)
Update (Nov. 2021): Flights are shifting to a 1 week (7 day) quarantine. This opens up the possibility to have one flight per week. However, local housing in the form of home rental, or local resident (air b'n'b style) needs to be arranged as the (2) remaining hotels that are not quarantine qualified are limited in availability and quite rough around the edges. Vaccination is now at 66%. At this rate, logically we won't hit 80% until Jan 2023 (3% every 2 months).
Hawaiian Air is allowing flight bookings to Pago Pago International (PPG) Airport. Starting August, bookings are opened for the Monday / Thursday flight schedule; a semi traditional schedule often called "Flight Night", where families hang out in the airport parking lot. Yesssssss!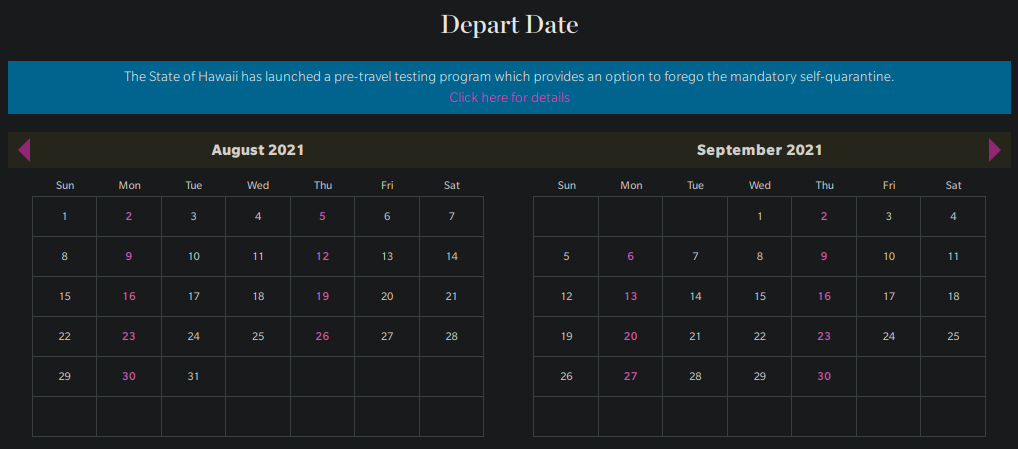 According to CDC American Samoa, & CDC Samoa are both Level-one / Low / Code Blue", this follows with recommendations of travel in these areas to be things like wearing a mask, avoid crowds, keep a distance of 6 feet from people you are not traveling with, and wash your hands. This list should by no means be replaced by the official advice which can be found at www.cdc.gov . It is also recommended to get fully vaccinated before travel. In fact, Hawaii, American Samoa, and Samoa Customs may have requirements of their own, including the requirement to be fully vaccinated.
The latest data reported from DOH at the Task Force shows 54.3% are now fully vaccinated1. This means that we have about 8 weeks to get 8,000 people vaccinated to reach a previously described herd goal of 80% (sorry can't find the reference). I don't know if this will happen, but I do feel like our boarders will open soon! Get over here, Lets go surf!
1 https://samoanews.com/local-news/no-quarantine-most-fully-vaccinated-travelers-5th-repat-flight